Extrusion Blow Molding Machine FS IML Series
FS Series is One -piece frame with IML , convenient transportation, Fast installation.
It is widely used in lub时cant dairy and traditional household product industry for containers ranging trom 4~5 liter in single head, 2 liter in double head /CD160MM,l liter 1n triple head/CD110MM,500ml and below in quad head/CDlOOMM.
Description

Features
FS IML Series is specifically designed for making bottles from 5ml up to maximum 10L. It is hydraulic driven with accrate eletrical control system. FS IML has double stations to increase the production efficiency. Also, it has variety of choice of die heads. With more than 10 years of success in the market, FS IML is updated to be one of the most reliable and popular model in the world.
Benefits
 EASY OPERATION:SINGLE STATION DESIGN
STS-FS series is designed in single-station structure with toggle claSTSing system. CoSTSaring to double-station machine, STS-FS series can be operated more easily.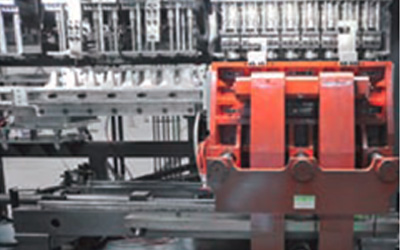 FULLY AUTOMATION:COSTSACTED INLINE PROCESSES
STS-FS series is coSTSatible with IML machine, in-line leakage testing and label detection. All the processes can be finished inside of the machine.
 VARIOUS SOLUTION:OBLIQUE BLOWING TECHNOLOGY
STS-FS series is designed with oblique blow technology specifically for angular neck products.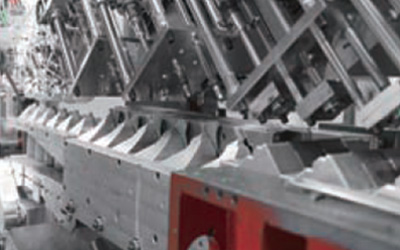 Standard Features:
Auto Lubrication
Water Cooled Modular Blow Pin
Hot Wire Cutting
Positioning Hole For Quick Mold Change
Adjustable Die head
Linear Transducer
FRL(Filter Regulator Lubricator) for Pneumatic
Proportional Hydraulic System fro better control
Swing and Adjustable Extrusion Platform
OPTIONAL FUNCTION
COLD CUTTER
DEFLESHING SYSTEM(MACHINE SYSTEM+STEEL BACK PLATEN AND PNEUATIC CYLINDER)
HYDRAULIC DEFLESHING SYSTEM
BOTTLE ROTATION TOP CUT OFFLINE
BLADE NECK ROTATION CUTTING ONLINE INSTALLED/OFF LINE SEPARATE
HYDRAULIC FILTER
MECHANICAL FILTER
LEAK TEST MC ON/OFF LINE
ROBOT TAKE OUT
IML(IN MOULD LABELING SYSTEM)
2 YEAR SPARE PARTS WARRANTY
SCRAP MATERIAL CONVENYOR
BOTTLE CONVENYOR AROUND THE MACHINE OR CUSTOM DESIGN
POST COOLING SYSTEM
SIDE WATER REGUAR 12IN-12OUT WITH FLOW CONTROL
PARISON CONTROL SYSTEM MOOG 100PTS
SPECIAL SCREW AND BARREL FOR SPECIAL MATERIAL
SPECIAL PROGRA FOR SPECIAL PRODUCTS AND MOULD DESIGN
LOADING DEVICE,MASTER BATH MIXING DEVICE
Specs

| | | | | |
| --- | --- | --- | --- | --- |
| STS Machine Model | Unit | 70FS | 80FS | 90FS |
| General Specification | | | | |
| Capacity/Article Size | L | Up to 5 | Up to 4 | Up to 1 |
| No.of Dies | no. | 1,2,3,4,6 | 3,4,6 | 4,6,8,10 |
| Machine Dimension (L*W*H) | m | 3.6*2.2*2.36 | 4.5*3.5*2.9 | 5.9X4.1X3.2 |
| Total Weight | T | 7 | 10 | 12 |
| Clamping System | | | | |
| Clamping Force | kN | 150 | 200 | 300 |
| Mould Dimensions(W*H) | mm | 500*440 | 680*420 | 1100*420 |
| Platen Opening Stroke | mm | 240-600 | 240-560 | 240-560 |
| Toggle Stroke | mm | 360 | 320 | 320 |
| Extrusion Unit with Inverter Drive | | | | |
| Scew Diameter | mm | 70 | 80 | 80 |
| Length/Diameter Ratio | L/D | 24 | 24 | 24 |
| Plasticizing Capacity(HDPE) | Kqh | 70 | 100 | 100 |
| Scew Heating Zone | no. | 3 | 4 | 4 |
| Scew Heating Power | kW | 10.8 | 11.5 | 11.5 |
| Fan Power | kW | 0.28 | 0.28 | 0.28 |
| Extruder Driving Power | kW | 18.5 | 30 | 30 |
| Extrusion Die Head | | | | |
| Die Head Heating Zone | no. | 3 | 4 | 4 |
| Power of Die heating | kW | 8 | 10 | 12 |
| Energy Consumption | | | | |
| Total Connected Load | kW | 52.58 | 80.78 | 84.78 |
| Power Of Electric Motor | kW | 15 | 29 | 31 |
| Air Pressure | Mpa | 0.6-0.8 | 0.6-0.8 | 0.6-0.8 |
| Average Power Consumption | kW | 30 | 55 | 57 |
| Average Compression Air Consumption | m^3/min | 1.2 | 1.5 | 4 |
| Average Cooling Water Consumption | L/min | 50 | 70 | 150 |
Cases
Application Category

Other Cases